The web
has gone mobile
dont miss the boat.
Mobile Website Design Ireland
There are four times as many mobile phones sold as PCs. This equates to 1.3 billion people who can and will access the internet through their mobile phones. Visual Design are here to create you beautiful responsive websites.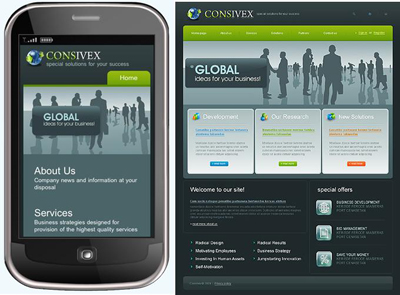 With the evolution of smart phones browsing the web is no longer confined to the office or laptop. Users are now able to access online resources from anywhere,  whether it be the bus, train, pub or gym. Having a mobile friendly websites ensures users receive the best possible experience taking into account the advantages and limitations of the mobile platform.
3 More Reasons Why You Should Consider a mobile site?
1. Results show explosive growth:
A 2008 dotMobi study showed 150,000 mobile ready sites, the same 2010 study showed approximately 3.01 million mobile ready sites, representing an incredible two-year growth of more than 2,000%.
There are four times as many mobile phones sold as PCs. That's 1.3 billion people who can and will access the internet on their mobile phones.
2. Consumer Confidence:
€1.6 billion in sales has been purchased from mobile devices in 2009. Purchasing from mobile devices is on the rise, and studies indicate that buying confidence levels are also increasing.
3. User Flexibility:
Smart phones offer the user the opportunity to search/browse information on the go whether they are looking for your location or to make a purchase .
Get Mobile friendly websites in 5 Easy Steps:
We can help you get your mobile site up and running within weeks, on a reasonable budget, with 5 easy steps:
Step 1: Discuss your Project in Detail (we will then send a proposal and quote to you)
Step 2: Plan out your mobile site with Wireframes (how will it work, what will it do)
Step 3: Finalise the Design and set Timelines.
Step 4: Start Building your Mobile Site & Test, Test, Test.
Step 5: Launch your mobile friendly website.
Maybe you are looking for mobile website design Ireland & Development. We are creating Mobile friendly Websites for clients in Dublin, Cavan, Fermanagh and Monaghan in Ireland. Need more info? If you would like to have more information please feel free to Contact Visual Design at [email protected]. We offer website design cavan, and Mobile Website Design.  We also offer: Android development Ireland here. We have excellent skills in data mining, and web scraping. We also do ecommerce solutions ireland, wordpress web design, and finally PSD to HTML. On the hardware side, we have also years of  hardware experience, and offer laptop repair cavan, and computer repair cavan. If you need anything else, please feel free to contact us.